MOULDED LIQUID SILICONE PARTS
Liquid silicone is the ideal material for producing a large number of moulded parts with a high level of automation, similar to in thermoplastic injection moulding. When it comes to elastomers, there is nothing faster than liquid injection moulding (LIM).
In-house development of cold runner system technology
M+S Formteile is a leader in the area of liquid silicone processing with the cold runner system procedure that it developed itself. We also offer solutions for applications with moulded parts injected with plastic. Our customers benefit from high product quality, efficient production and fast response times.
Properties:
Small and large injectable part weights
Two-component parts
Fast production time
High level of precision in every injection process
Hardly any material variations in the properties
Applications:
Seals
Membranes
Valves
Functional assemblies
Masks
Dampers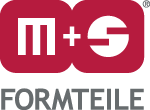 M+S Silicon Formteile GmbH
Hannöversche Str. 28
44143 Dortmund
Germany